Haena Yoo


Art-o-rama, Marseille, FR


31 August - 3 September, 2023

Immortelle Divine, 2023

Crystal wax, Korean herbal medicine, Ganoderma licidum (a.k.a herb of immortality), vitamin pill, vinyl, meat hook, brass, pvc tube, water pump, brass-plated ginseng, gold leaf, glass bottle, prints on rice paper, polyester film, wine, and Mediterranean sea water.

This site-specific installation shows aspirational prosperity and wellness of two specific cultures, France and Korea, within the scope of Neo-globalization. The soap wax sculptures are formed with traditional Korean herbal medicines suspended along with tubes filled with red wine from local markets and salt water from Mediterranean Sea. The liquid is lively circulated in the space as the viewers are allowed to explore it from within. Three ginseng liquor bottles are filled with sea water, wine, and printed images of The Louvre's master pieces. (The Louvre Museum is the most well-known museum and a must-see for tourists. Now, it's accessible for viewers through their online viewing room.) Again, the bottles are labelled as L'Oriental, followed up with L'Occitane's Immortelle Divine cream. The absurdity of this playful arrangement leads to the strategies of multicultural consumerism.

Object list:

Four wall based, multi-tired sculptural works installed directly to the wall with supportive hardware, interlaced with pvc piping, brass connectors and metal hooks.

Three standalone glass bottles containing electroplated ginseng and inkjet printed images from the Louvre collection and contemporary media headlines regarding Anti-Asian hate crimes in America.

Freestanding pvc piping with brass connectors, custom made water pump.

A complete installation requires a mix of Mediterranean sea water, and red and white wine from the local markets of Marseille.

Haena Yoo is a multidisciplinary artist who works between Seoul and Los Angeles. Yoo makes installations constructed with found materials, video, sound, and smell, exploring themes of labor, identity, and global capitalism. Through bricolage she uses materials borrowed from different minority cultures, making operative systems that symbolize social interactions and power structures resulting from neo-globalization. Her work often shows the urgency created by limiting materials to what is at hand, showing the archeological and socio-political status of the maker.

Yoo has had solo exhibitions and projects at Gallery Shilla, Seoul (2022); Murmurs, Los Angeles (2021); P.Bibeau, New York City (2021); u's, Calgary (2020) among others, and she presented a collaborative exhibition with Erin Calla Watson at As It Stands (2019); Sterling Wells at AWHRHWAR, Los Angeles (2018). Selected group exhibitions have been held at Eli Klein, New York City (2022); Other Places Art Fair, San Pedro (2019); Torrance Art Museum, Torrance (2018); Leroy's, Los Angeles (2018); AALA, Los Angeles (2018). She is a recipient of a 2018 Emerging Artist Grant from the Rema Hort Mann Foundation.
For a complete PDF please email: info@bibeaukrueger.com
Haena Yoo
L'Oriental For Her, 2023
Tremella fuciformis, ginseng, Dior perfume bottle,
chain strap, mask pack, pearl, heart charm, liquor, epoxy, and glass bottle
16.5 h x 6.5 diameter inches

Haena Yoo
L'Oriental Vacances, 2023
Polygonum multiflorum, reishi mushroom, ginseng, key chain,
golf ball, Priority Pass card, Benz car key, liquor, epoxy, and glass bottle
25.5 h x 8 diameter inches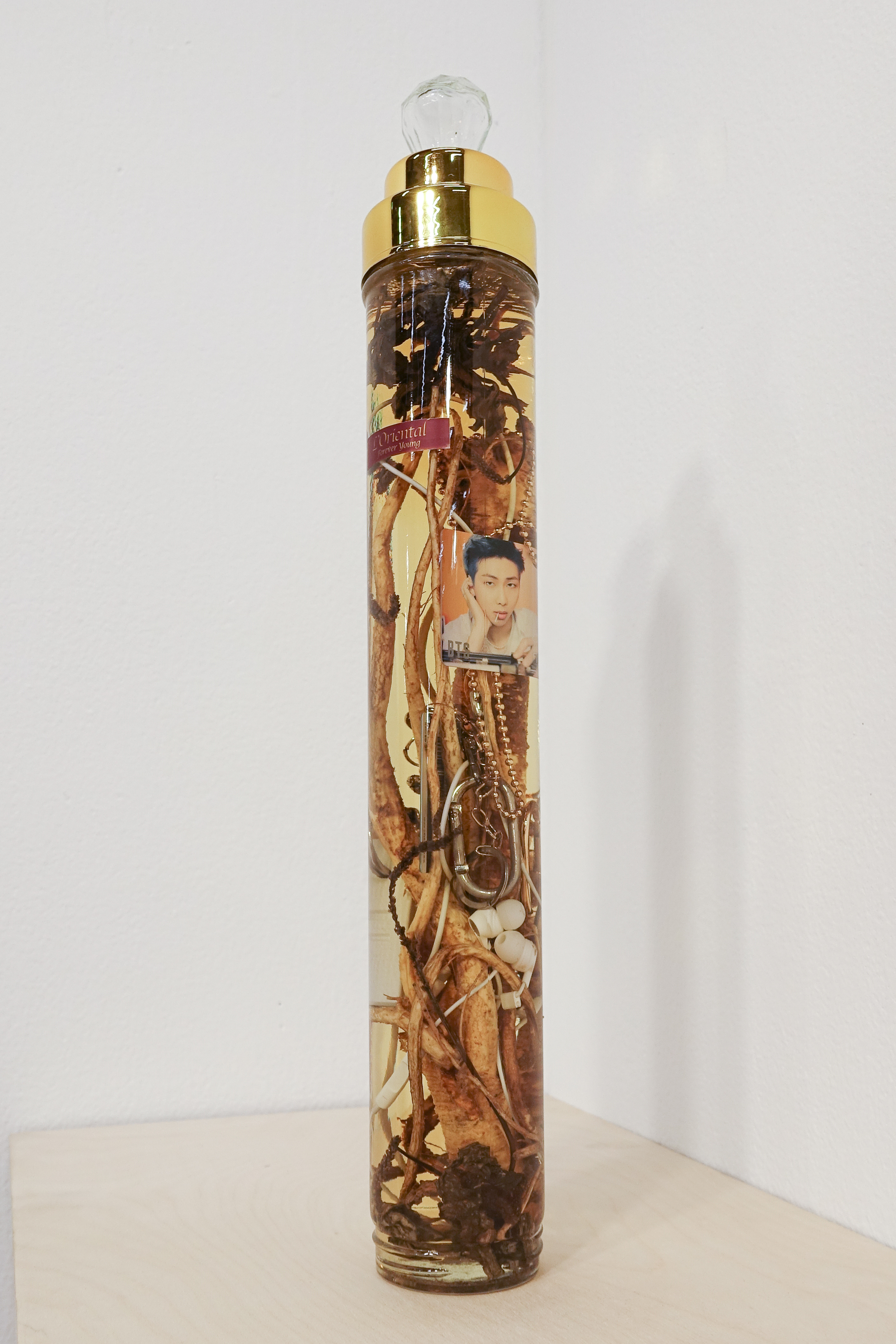 Haena Yoo
L'Oriental For Men, 2022
rehmanniae radix, collagen sausage casing, condom, hepatotonics,
watch strap, beads, liquor, epoxy, plastic and glass bottle
5 1/4 x 5 1/4 x 10 inches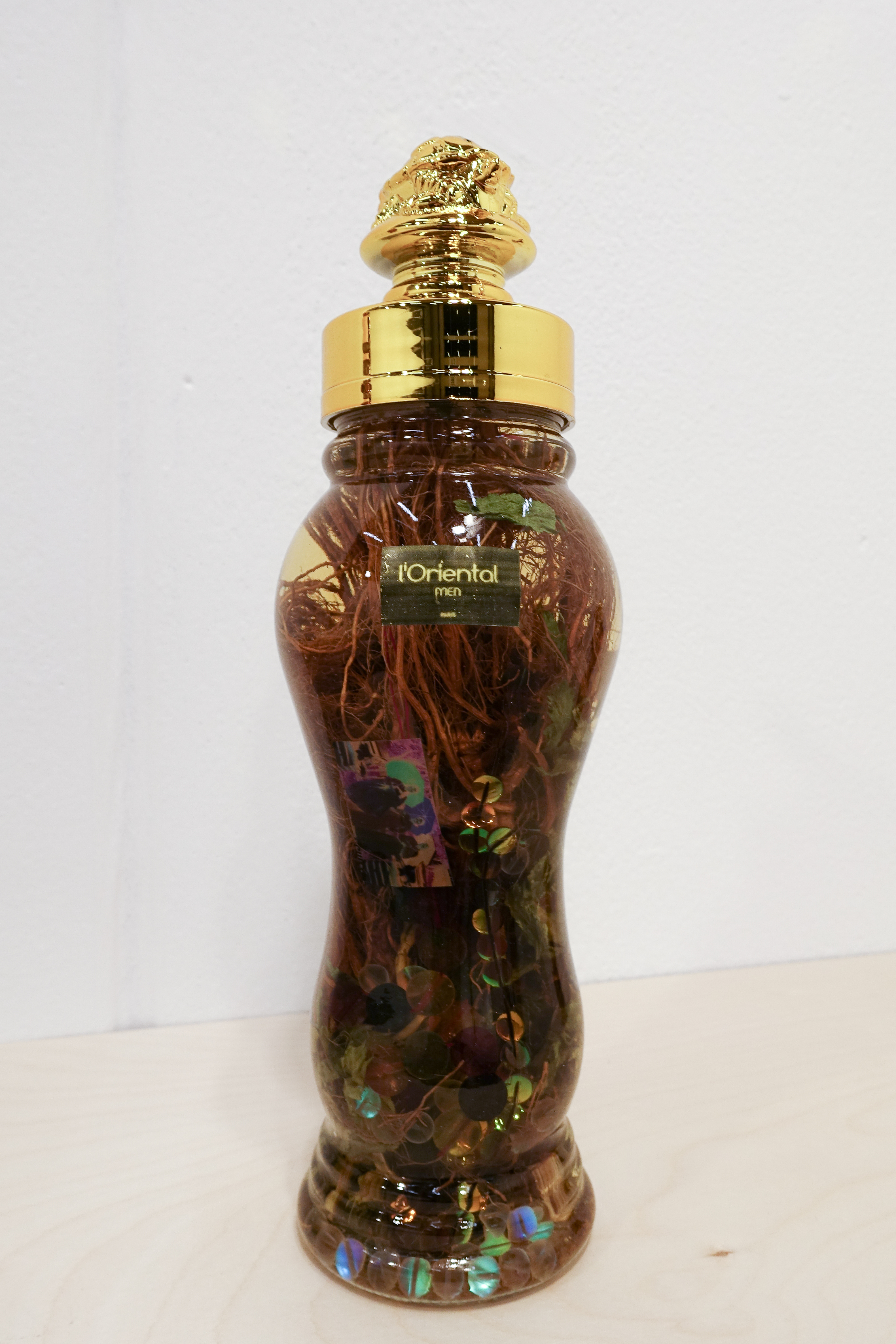 Haena Yoo
L'Oriental Forever Young, 2022
deodeok, plantaginis herba, wired earphones, supermarket loyalty card,
At-Home COVID test kit, Metro card, key ring, charm, liquor,
epoxy, plastic, and glass bottle
3 1/2 x 3 1/2 x 19 inches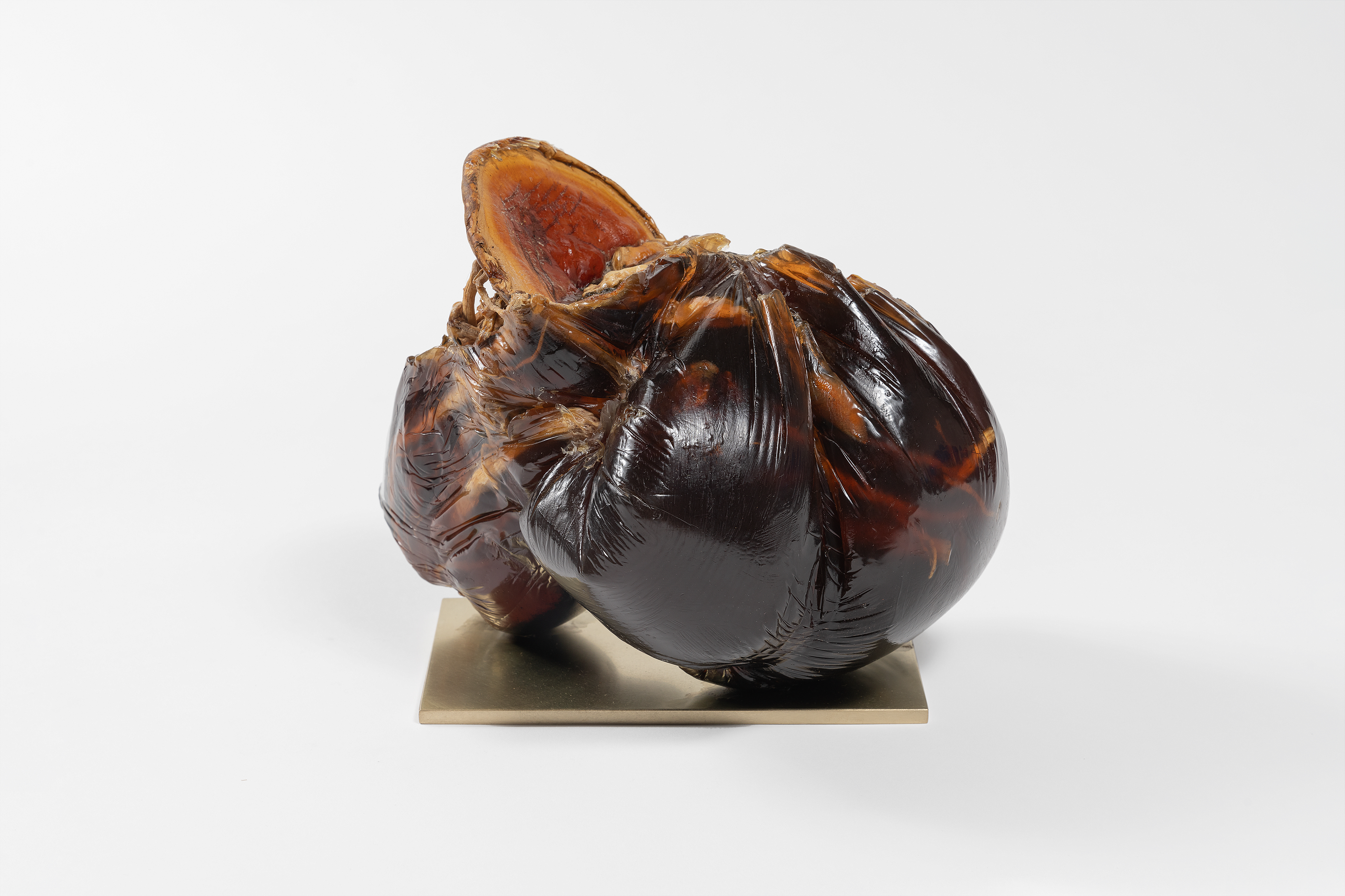 Haena Yoo
Obsolete Gut 1, 2023
crystal wax, Korean herbal medicine, Ganoderma,
vitamin pill, brass
dimensions variable, approx. 8 x 8 x 8 inches
unique
Haena Yoo
Obsolete Gut 2, 2023
crystal wax, Korean herbal medicine, Ganoderma,
vitamin pill, brass
dimensions variable, approx. 8 x 8 x 8 inches
unique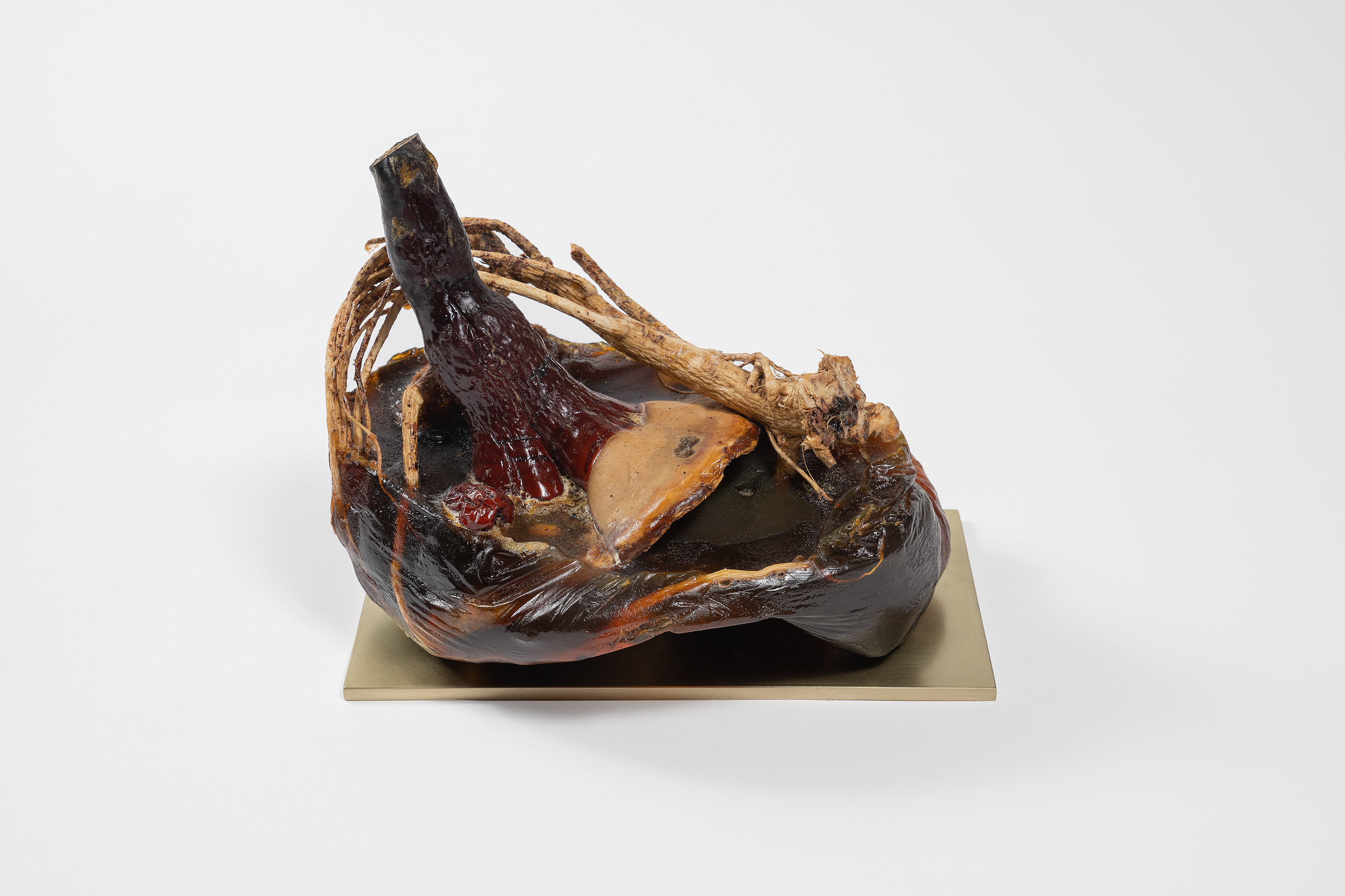 Haena Yoo
Obsolete Gut 3, 2023
crystal wax, Korean herbal medicine, Ganoderma,
vitamin pill, brass
dimensions variable, approx. 8 x 8 x 8 inches
unique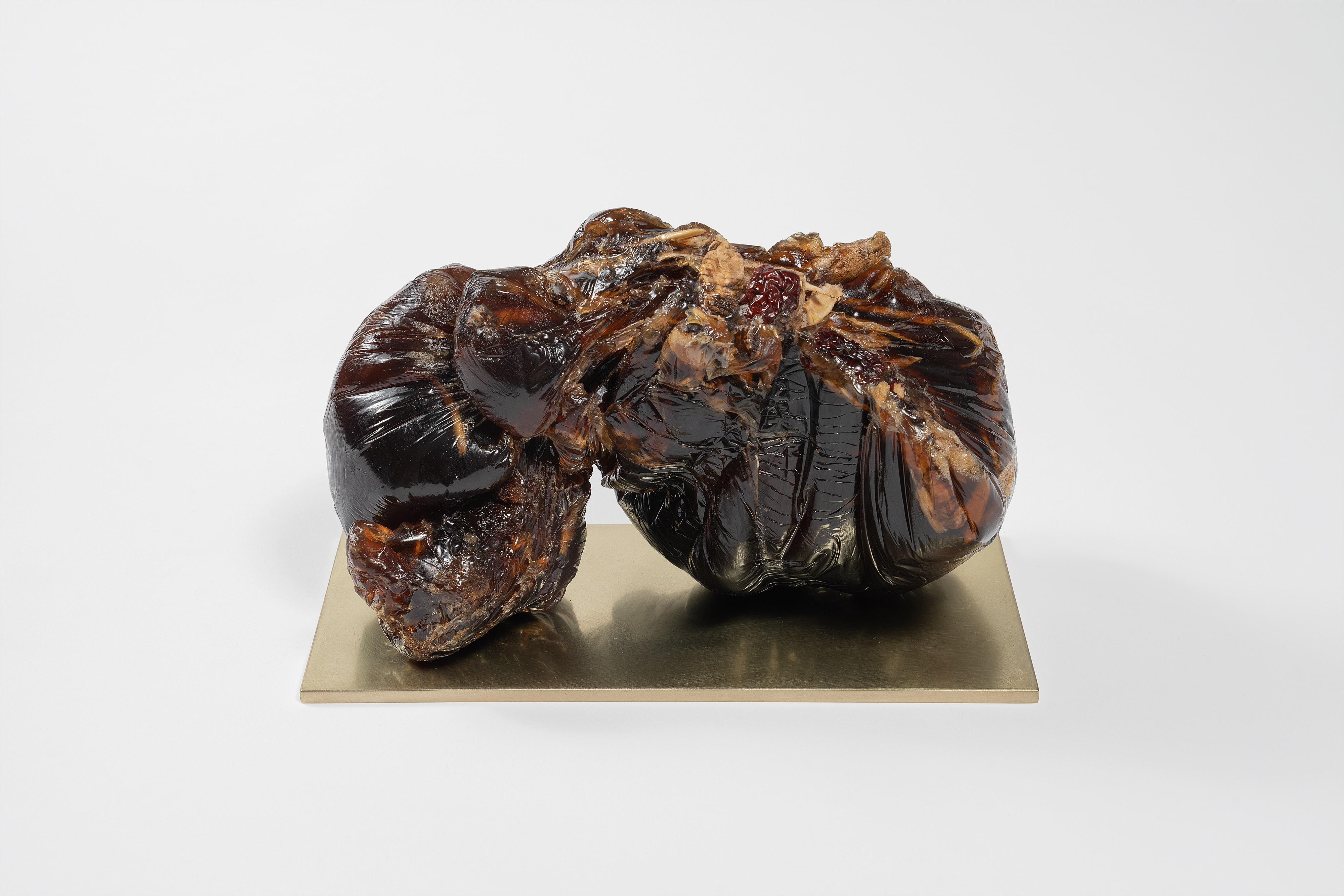 Haena Yoo
Obsolete Gut 4, 2023
crystal wax, Korean herbal medicine, Ganoderma,
vitamin pill, brass
dimensions variable, approx. 8 x 8 x 8 inches
unique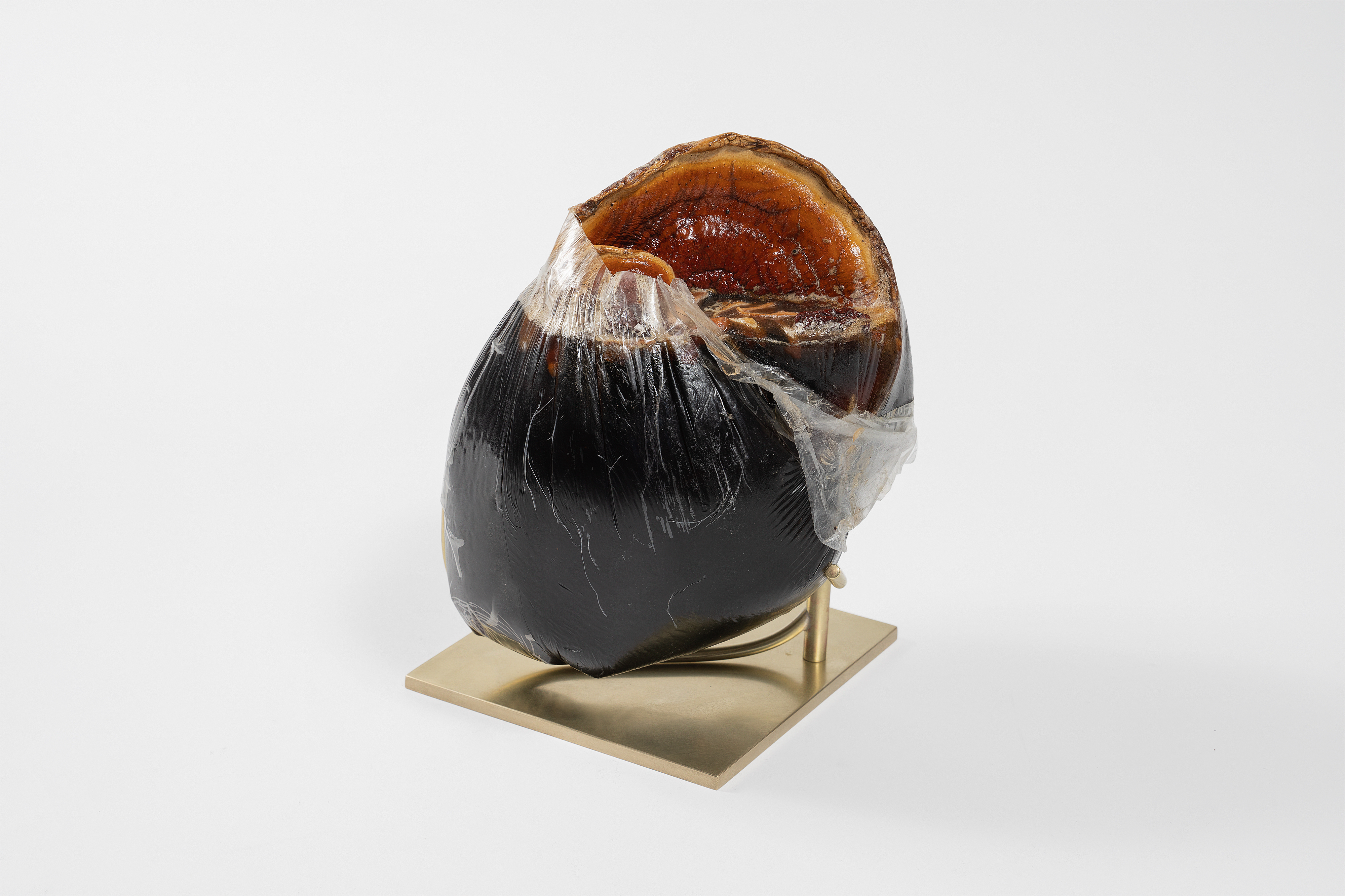 Haena Yoo
Obsolete Gut 5, 2023
crystal wax, Korean herbal medicine, Ganoderma,
vitamin pill, brass
dimensions variable, approx. 8 x 8 x 8 inches
unique